2nd Edition February 23rd-25th 2024
Application Deadline: 4th February 2024
Welcome to the B# Piano Competition!
The B# Piano Competition aims to provide an opportunity for young pianists to showcase their skills, passion, and talent.
There are 18 trophies and even more medals up for grabs. Additionally out of the winners, 2 special prizes will be awarded:
The Adjudicator Award for the best overall performer.
The Audience Award for the performance with the most votes.
We encourage all eligible (under 15) pianists to join us for this exciting new event and be recognised for their talent. Good luck to all the participants, we can't wait to see what you have to offer!
Age Reckoned on 1st January 2024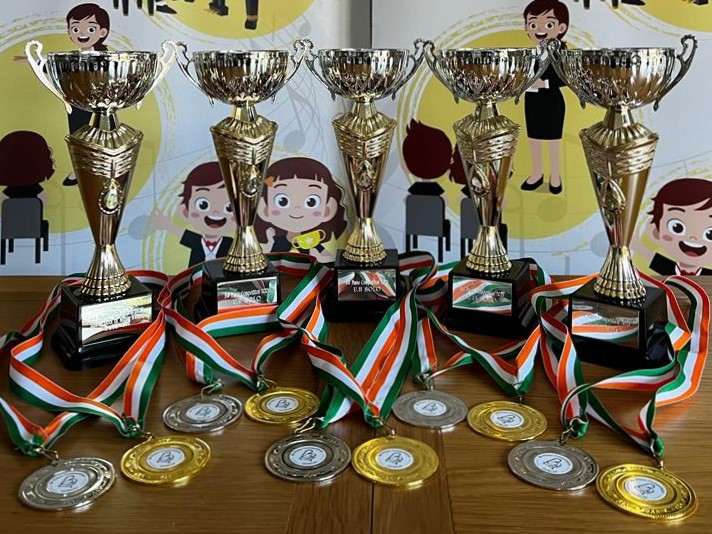 Performers to present one piece of own choice.
Performers to present one movement of a sonatina/sonata of own choice.
Performers to present one etude of own choice.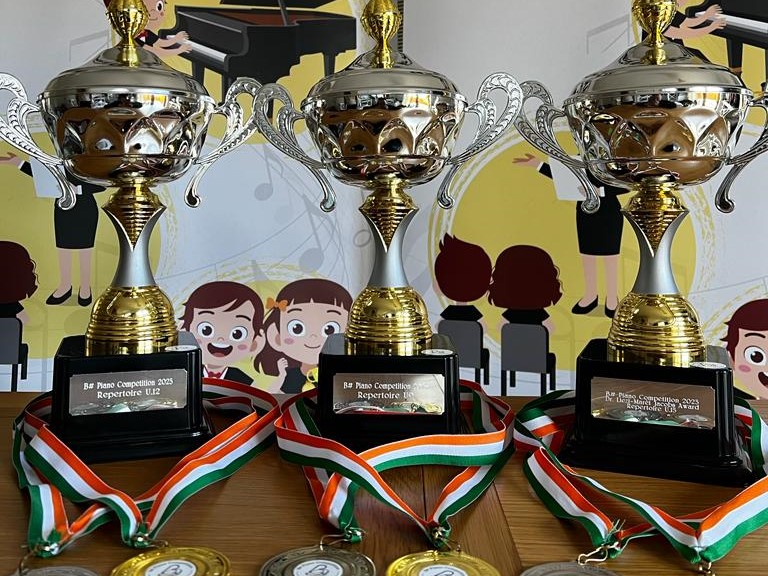 Performers to present a program of contrasting style within time limits.
Performers to present a duet program of contrasting style within time limits.
Litton Hall,
Wesley House,
Dublin 6,
D06 N5P0
Email: team@besharppiano.ie
WhatsApp: +353 87 350 4317
Application Process Questions
Simply press any of the 'Apply Now' buttons or go to this link, and follow the steps to complete your application.
First you will be asked for the competitor's information including their teacher's information, then you will be asked to select the competition and list the repertoire to be played. Finally, you will be directed to the payments page. All payments are done securely through Stripe.
Once your payment has been received, both you and your teacher will receive a confirmation email.
Yes, of course as long as there is no overlap of repertoire. This means that you cannot present the same piece for more than one competition. Also, for future years, the winner of a category (e.g. Sonatina u9) cannot participate in the same category again.
Unfortunately, our website does not allow you to apply for multiple competitions at once. You will have to submit a new entry for each competition. There is no additional service fee required. Apologies for the inconvenience caused. 
If you are entering more than 3 competitions, you may send us an email with the required information (Name, Date of Birth, Address, Teacher's Name & Email, Competitions to be Entered and Corresponding Repertoire), and we can send you a payment link. Whichever you prefer. Don't hesitate to contact us at team@besharppiano.ie.
We will have finalized competition dates and times by Midnight Sunday the 18th February. If there is a particular time that definitely does not suit then let us know in advance and we will try to accommodate. Any further questions feel free to reach out at team@besharppiano.ie).
Competition Process Questions
Competitors are asked to arrive at least 15 minutes before the competition start time. We will have team members available to help out in the waiting area and competition hall. There are no practice facilities available.
Team members may ask to take photographs of your child to put on our social media or website. If you do not consent to this, please just let the team member know. 
Anyone can attend the competition free of charge. To ensure a competition environment, audio and visual recording is strictly prohibited and may lead to qualification. Additionally, audience members are asked not to enter or exit the competition hall during performances.
Results will be announced at the end of every category. Everyone will receive a certificate and comment sheet. 1st place will win a trophy and a gold medal, and 2nd place will win a silver medal. The trophy must be returned the following year with the engraving taken care of. Commendations may also be awarded.
In the waiting area, concert programs will be available to purchase at €5 each. Additionally, we will have some products for sale as well. If you are a business and would like to sell products in the waiting room (e.g. cupcakes etc.) please get in touch at team@besharppiano.ie. We are looking for sponsors to help make this competition a success.
A full list of competition rules can be found here. Some of the important rules are as follows:
– Use of any audio or visual recording is strictly prohibited and may lead to disqualification.

– The adjudicator is not obliged to give all the prizes. Their decision is final. Competitors and members of the audience may not approach the adjudicator before, during, or after a class to discuss decisions or results. 

– Copies of the original music to be performed should be provided for the adjudicator. Photocopies may be used when the original music is also present.

– A minimum of 90 marks are required for 1st place and a minimum of 85 marks required for second place.

– If a tie occurs for 1st place, the two competitors may be asked to perform again.
A copy of the music will need to be given to the adjudicator. This will be returned at the end of your performance. Ideally, please present an original book open to the right page for the adjudicator. However, if the book cannot be sourced, please bring a clean copy of the music without any written notations.
Prizewinners' Concert Questions
1st prize winners of each category are invited to perform at our Prizewinners' Concert. If one performer has won multiple 1st prizes, they will be given a choice of the category to represent. The unchosen categories will be represented by the 2nd prize competitor. 
Anyone can attend the Prizewinners' Concert. Tickets will cost €10 per adult, and €15 for two adults. Each ticket will come with a voting card for the Audience Award to be awarded on the day.
All performers at the Prizewinners' Concert will be competing for the Adjudicator's Award and the Audience Award. The two biggest trophies we have to offer.
All tickets to the Prizewinners' Concert come with a voting card. At the end of all the performances, audience members will be asked to write their favourite performer on the back of their voting card. These will be collected and the performer with the most number of votes will be awarded the Audience Prize. 
Sponsors of the B# Piano Competition are entitled to additional votes. If you would like to sponsor the competition and have your name listed in the sponsor's area of our Concert Program, get free entry to the Prizewinners' Concert, or even name a trophy, please check out the sponsors page or get in touch at team@besharppiano.ie.